Today the world sees the first Covid 19 vaccination.
For several months Warwick SASCo has worked with national procurement team evaluating products for the vaccination trials.
NHS England selected two of our blue trays for the vaccination sets used in the nationwide roll-out program.
As seen in the news reports, our trays were chosen as the ideal container for the critical delivery of the vaccinations.
https://www.youtube.com/watch?v=UeN11PnOUCY
https://www.bbc.co.uk/news/uk-55227325
https://news.sky.com/video/covid-19-vaccine-moment-uks-covid-vaccine-rollout-began-12154835
https://www.today.com/health/british-grandma-90-1st-world-receive-clinically-approved-covid-19-t203002?cid=sm_npd_td_fb_ma&fbclid=IwAR2Ua-5B3xb6DH5TdeoxLbo4ooTyD8uVKnpNbf6NyYSoYT_rtWG9CvubtnA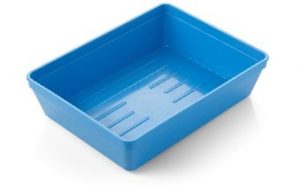 IT3025 – Instrument Tray- Solid Ribbed Base              IT2015- Instrument Tray-Solid Ribbed Base
Dimension 300x25x52mm                                                            Dimension 200x150x51xmm
Both trays are:
Reusable – guaranteed minimum of 1000 decontamination cycles
Suitable for sterilization by Autoclave, Ethylene Oxide, Hydrogen Peroxide
Compatible with most hospital chemicals
Robust and Lightweight
Links
https://www.sasco.co.uk/?s=IT2015
https://www.sasco.co.uk/?s=it3025
For information or media, please contact enquiries@SASCo.co.uk
---